Custom Vending & Retail Innovations
Accelerated Retail Technologies (ART) can take your idea or concept and help develop an automated retail kiosk or vending machine based on your brand and product line. The fastest way to expand your business is automation. Our clients and partners have tapped into ART's vast expertise to build thriving businesses.
---
WE CAN FULFILL YOUR AUTOMATED RETAILING NEEDS
Looking to expand your product or brand beyond conventional retailing? ART has custom solutions for your needs to help bring you into the future of automated retail. Self service retail is the fastest and most cost effective way to break into new markets with minimal overhead.
CUSTOM DESIGNED TO SUIT YOUR NEEDS
Work with our team of designers to design a custom automated vending machine based in your concept. You can also customize and brand one of our existing smart vending kiosks to suit your needs. From basic operation to fully interactive touch screen interface and beyond, ART can customize your automated store to best suit your needs and brand. Adding custom touchscreen displays can offer product information, commercials, and interactivity to not only improve consumer experience but offer the maximum amount of information to better monitor and improve your automated retailing venture.
INNOVATIVE TECHNOLOGY
As the technology leader in the automatic retail industry, ART has patented methods to reach your goals, as well as the unique ability to custom-craft an innovative solution – with speed, cost-effectiveness, and ingenuity.
---
Our Work
Rug Doctor
ART designed a self-service system that allows customers to get the system and products they want, when they want, without employee assistance.
Wanting to modernize, streamline and simplify the process – both for the customer and the store – Rug Doctor came to ART with an idea for a self-service checkout for carpet cleaning equipment and supplies… with no employee assistance required.
The ART team spent months developing a unique system of lockers that would store the rental equipment, and an innovative touchscreen interface that allowed customers to self checkout a system and purchase all the necessary supplies, quickly and easily.
After a pilot program in select Walmart stores, Rug Doctor was thrilled with the response, so they rolled out the program to over 3500 locations throughout the nation. Customer response has been highly favorable, rentals are way up over previous years, and both consumers and store managers alike praise the systems user-friendly experience.
Today, Rug Doctor is in Phase 3 of rolling out new ART manufactured systems to additional stores nationwide.
U*TIQUE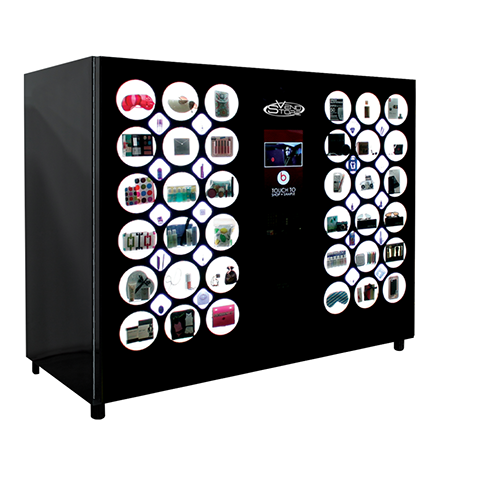 Give consumers access to the products they desire, when and where they want, 24-hours a day. UShop and U*tique allow retail consumers to shop for clothing, electronics, cosmetics, gifts, fashion accessories and more, in an invigorating and entertaining self service environment.
The automated stores, available from ART offer a uniquely premium automated shopping experience. It is the world's first interactive, high-tech and distinctively designed self service store that focuses on style, presentation and quality products to ensure a automatic retail shopping experience that is relevant, interesting and convenient. Emphasis is placed on convenience and the discovery of new and must-have items for those who appreciate style on-the-go.
Burrito box
First and foremost, we remain committed to good taste. Our team of foodies always reminds us that even more important than how we serve you our burritos is how good they taste and how good they are for you. Just one trip to a Burrito box and you'll agree that we listened to them very carefully.
The magic behind serving our great tasting burritos is a result of food technology experts who made our dream a reality. And trust us when we say they have only just begun. Each generation of Burrito box has completely blown away the one before.
Free WiFi and music videos with so many more surprises on the immediate horizon. All topped off with sour cream, guacamole, hot sauce and most importantly, a commitment to exceptional customer service 24/7/365 as only Burrito box can deliver.